Discover more from The AI Ethics Brief
Democratizing AI ethics literacy.
Over 11,000 subscribers
AI Ethics #28: The State of AI Ethics Report (October 2020)
Get up to speed quickly on the past quarter's developments in AI Ethics.
Welcome to the 28th edition of our weekly newsletter that will help you navigate the fast-changing world of AI Ethics! Usually, we dive into new research papers and articles, but this time we've put together a 158-page report for you to get a bird's eye view of everything that's happened in AI Ethics since the end of June 2020 when we published our last report.
---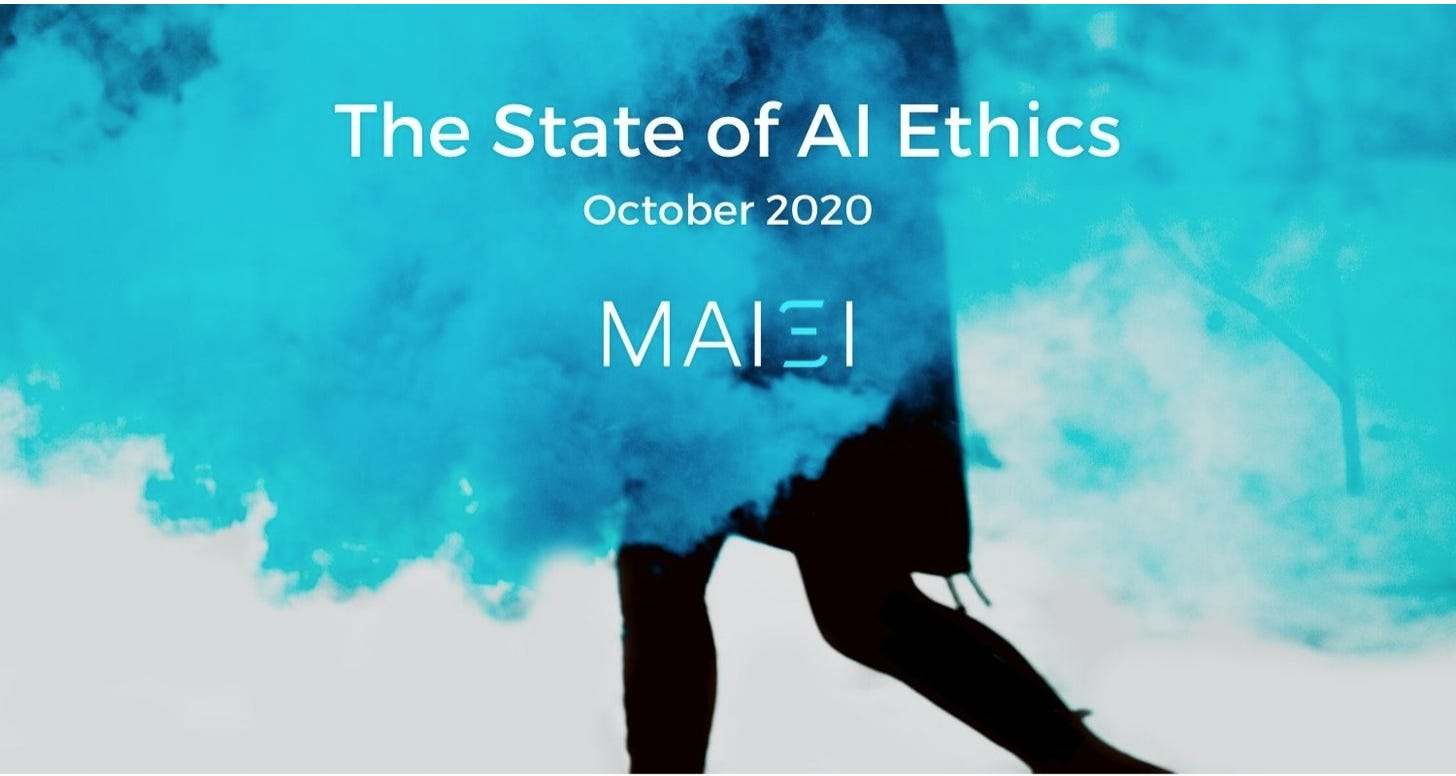 The State of AI Ethics Report (October 2020) captures the most relevant developments in AI Ethics since the end of June 2020.
Skip right to the report PDF: click here.
Our goal is to save you time by quickly getting you up to speed on what happened in the past quarter. That's why we distilled the top research and reporting surrounding various domains related to AI Ethics, including:
AI & Society

Bias & Algorithmic Injustice

Disinformation

Humans & AI

Labor Impacts

Privacy

Risk

Future of AI Ethics

Outside the Boxes
This time, the report goes beyond summaries and commentary — it includes exclusive content written by world-class AI Ethics experts from a diversity of organizations including universities, research institutes, consulting firms, and government, including:
Danit Gal (Tech Advisor, United Nations)

Amba Kak (Director of Global Policy & Programs, NYU's AI Now Institute)

Rumman Chowdhury (Global Lead for Responsible AI, Accenture)

Brent Barron (Director of Strategic Projects & Knowledge Management, CIFAR)

Adam Murray (U.S. Diplomat working on tech policy, Chair of the OECD Network on AI)

Thomas Kochan (Professor, MIT Sloan School of Management)

Katya Klinova (AI & Economy Program Lead, Partnership on AI)
Read the State of AI Ethics Report (October 2020) here.
---
Signing off for this week, we look forward to it again in a week! If you enjoyed this and know someone else that can benefit from this newsletter, please share it with them!
---
If someone has forwarded this to you and you want our newsletter delivered to your inbox every week, you can subscribe below.
---
---